Shopping at an antique mall is very fun, but it can also be intimidating. How can you find the best deals with so many choices? How do you avoid overpaying? Can you be thrifty while shopping for antiques?
This post will answer those questions and help you navigate an antique mall with confidence!
Recently I visited The Depot at Gibson Mill, billed as "the largest and most popular antique mall in the Southeastern United States". With over 600 unique vendors covering 88,000 square feet, it is certainly a massive shopping experience.
Click on the image below to watch the video I made about my shopping trip at this massive antique mall!
Here are 5 tips for getting the best deals at antique malls:
Tip 1: Set a budget and pay with cash!
Before you ever set foot in the antique mall, determine the amount of money you are willing to pay for whatever you may find in that little treasure trove of goodness.
Whether $40 or $400, have that amount in cash and keep the credit card in your wallet!
It is very easy to overspend in a place like an antique mall where you can justify your purchases by saying, "Oh, I may never see that exact same piece!" or "Who knows when I will get back here again?"
Many of the booths will be so inviting and charming that you will want to snatch everything up and take it home with you.
RESIST THE URGE!
Often we get very excited about sweet little knick knacks and one of a kind items. We find ourselves carried away and ready to spend way more money that we should.
Then we get home and say, "Why did I even buy this? I don't need it, and I don't even know where to put it!"
Save yourself from buyer's remorse by having a set amount of cash. Once it runs out, you are done shopping.
This self-imposed limit will help you prioritize your spending when trying to decide what you really want to buy. And hopefully, you will only come home with items that are useful and really bring you joy!
Tip 2: Before shopping, make a list of items you already know that you need or want.
I don't know about you, but when I walk into an antique mall, I lose my mind (a little bit).
I get so excited and so inspired that I can't even remember why I came. I will pick up the first little bit of vintage goodness I can get my hands on and toss it into my cart (unless it's fragile, in which case I will carefully place it instead).
The problem with this impulsive method of shopping is that there may be things that your home actually needs, but you've already spent all of your money on items that you had never even thought of before you walked into the antique mall!
Listen, I know that antique malls are not Targets. You can't come in and expect to find exactly what you are looking for. BUT you can make a list ahead of time of things that you need and the measurements of the space in which they will fit! This list is your friend; it's your gentle fairy antiquing godmother, helping you to move past the beguiling large wooden sailor statue and focus on the six cast iron hooks that will fit perfectly on your mudroom wall!
Your list could say something like:
Need a small table for the entry way. It must be no larger than 42 inches wide and 36 inches tall.
Love to find a small (12×18) painting to go on the wall by the front door.
Look for a mirror (no taller than 40 inches!) to go on the mantel!
You get the idea. That list will be a visible reminder of the spaces in your home that really need some attention and keep you from impulsive purchases that don't serve a purpose in your home!
CAVEAT: After all of that sensible advice, I must confess that I am a massive advocate of buying something you love and figuring out where it will go later. And generally, because you have fallen in love with a painting or table or vintage serving piece, you will go home and get rid of something just to have space for it. I am definitely for this.
But I would much rather you have that list of needed items and be able to take a good hard look at it. Even if you choose the impulsive over the practical, at least you have made an informed decision.
AND OF COURSE when you find that amazing thingamabob that isn't on your list but you absolutely have fallen in love and must take it home, it will be worth it. And you will always be able to tell the story of the day when you walked into the antique mall looking for a bookshelf and instead you walked out with a papier-mache moose head and you've absolutely never regretted it.
Tip 3: Shop the front and center booths for inspiration, and shop the perimeter of the mall for the best bargains!
The booths that you see as soon as you walk in the door of any antique mall are generally the most expensive for the vendors to rent. Logically, those front and center spots will have more visibility and often more sales just because they are the first thing you see when you walk in the door!
Because these high visibility spots are more expensive for the vendors to rent, they often (but certainly not always) also have more expensive items to make up for their overhead.
So what do you do if you see something in one of these booths that you just have to have?
My advice is to wait before purchasing.
Often there will be other vendors selling the exact same item or something very similar at a different and better price.
During my trip to The Depot at Gibson Mill, I really wanted a metal egg basket. And let me tell you, I saw lots of egg baskets. Every time I saw one that caught my eye, I would check the price.
After much price checking, I found one I loved for only $12. I was super excited and so glad I waited! I had seen similar ones for twice that amount while shopping. It definitely pays to look around and be patient.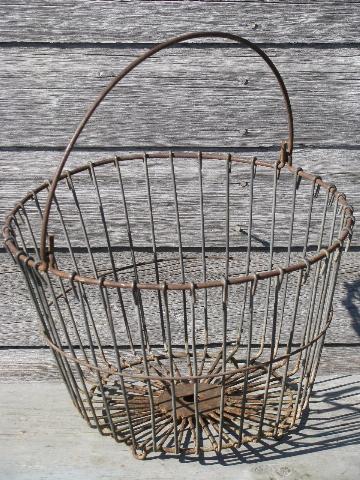 This leads me to my next tip…
Tip 4: Take a picture of anything you love, and be sure to get a picture of the price!
When you see something that you like and you are considering purchasing it, take a picture of it instead. In fact, take 3 pictures:
One picture of the item itself.
One picture of the price tag.
Step back and take one picture of the booth.
That last picture may come in handy if you can't remember where you saw that particular piece of transferware that you decided that you really want! At a place like The Depot with over 600 vendors, it's easy for booths to get lost in the shuffle. If your booth picture doesn't help you locate the item, show it to someone who works there and they will most likely be able to lead you straight to it!
As you see items you like, keep taking those 3 pictures. When your shopping time is almost over, scroll back through and see what you really like.
I liken this to throwing everything in your online shopping cart and then removing the items you no longer really want.
I do not like shopping with a shopping cart at an antique mall. The Depot had big grocery store sized carts, but maneuvering them around the booths would have been tricky, and it also would have been a nuisance to have put items back when I changed my mind.
HOWEVER, I will make an exception to the photo rule: if you see something that you know is a steal of a deal and you are concerned that someone will pick it up before you come back to it, go ahead and buy it.
That being said, a lot of times we get really frantic and convince ourselves we have to have something that we really don't. Or we think we will never find it again when actually there are 20 billion of them (for less money!) on eBay. So proceed with caution.
Generally, the photo tip will be a better method than lugging around every single thing that catches your eye. And it's miles better than not taking the picture and wondering, "Now, how much was that thing again? Where was that thing again?" and getting frustrated.
Tip 5: Don't Be Afraid To Dig
We all love to browse through the beautifully decorated and displayed wares of some of the booths. Some vendors artfully arrange their item and it's just a joy to take them all in.
Other booths may look a little cluttered or dirty. The look might not be as tailored and some of the items may not be in pristine condition, but often those booths are the places where you can find hidden treasures!
I like to rummage through any booth that is dimly lit or tucked away in a corner. Even if most of the items are not things I normally would purchase, I will still sift through because if there is an item there I want, it will often be a bargain because it does not appeal to most of the customers purchasing items from this particular booth.
Of course, you may also find a concrete statue of an upside down cat with a human face and the price tag is over $300.
That is just part of the joys of going antiquing. You literally never know what you are going to find.
It's Your Turn!
What is the craziest thing you've ever found while shopping at an antique mall? and what is the very best deal you've ever gotten?
Let me know in the comments!
Shopping at an antique mall is very fun, but it can also be intimidating. How can you find the best deals with so many choices? How do you avoid overpaying? Can you be thrifty while shopping for antiques?
Now you know the answers to those questions!