Storage in the laundry room helps keep your room neat and clean. One of the best spaces to utilize when creating storage is the space over your washer and dryer. As part of my zero cost laundry room spruce up, I decided to build a floating shelf to put that empty wall space to good use.
How do you build a floating shelf over your washer and dryer? A floating shelf is made of wood and attached to the wall by locating and drilling into the wood studs in a wall. It is perfect for the space over the washer and dryer in a laundry room because it does not require any brackets or braces that interfere with opening a top loader washing machine.
Building your own floating shelf is a good way to expand your DIY capabilities and learn a new skill. And after you've finished, you'll have a perfectly customized space to store all of those items you'd like to have in reach when using your laundry room.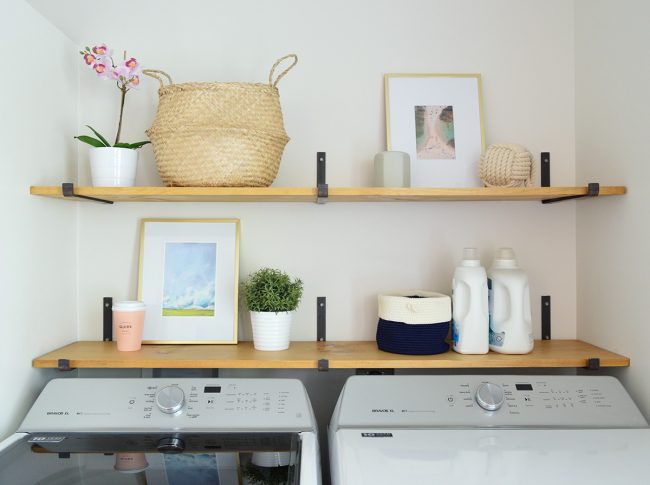 How to Choose Which Floating Shelf Tutorial to Use:
A quick Google search will yield a bewildering amount of results on the best way to build a floating shelf. You can easily figure out which tutorial will fit your needs based on:
The tools you have on hand (or are willing to buy for this project)
The materials you would like to use (or what you have on hand, if you're trying to avoid buying anything new)
The desired look of the final product (Do you want to stain or paint your shelf? How thick or thin do you want your shelf to be?)
After watching several videos and reading multiple blog posts, here are a few of my favorites:
DIY Creators Easy DIY Floating Shelf | No Brackets — OK, the "easy" in the title might be a stretch if you are brand new to woodworking DIY, but you got this! This is a very thorough and helpful video that walks you through the process in detail. The only tools you need are a circular saw and a drill, which many of us already have on hand.
Shanty2Chic's Easy DIY Floating Shelves — Again, "easy" might not be 100% accurate, but this shelf is also totally doable. The final product of this tutorial gives you a thicker shelf, which is the look I wanted, so these instructions are the ones I followed with some slight modifications since I did not have all of the tools required. Whitney & Ashley (the sisters behind Shanty2Chic) also made a video of their Floating Shelf tutorial. It's a little different than the original post, but sometimes it's easier to understand the steps when you watch a video.
If you'd like to skip some of the DIY steps but still have a custom floating shelf, Live Free Creative has a tutorial using floating shelf brackets that are pre-made. She was still able to customize the length and type of wood used, so this might be the perfect route for you to go if you want a custom look without quite as much work.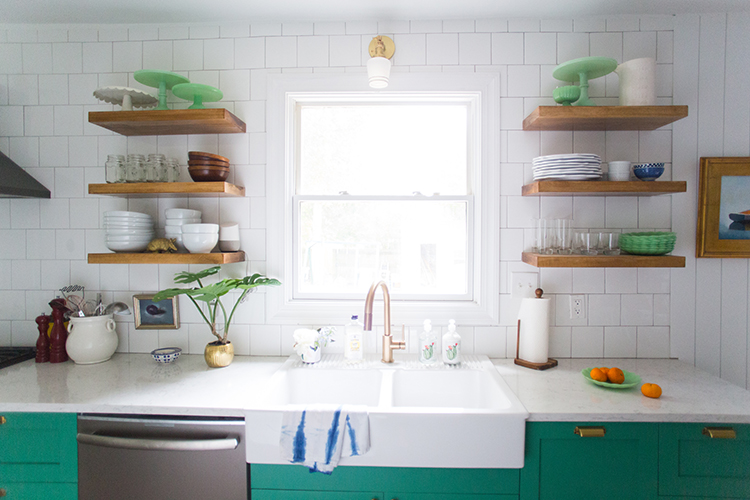 Like I mentioned above, I decided to go with the tutorial from Shanty2Chic, since the scrap wood materials I had in our storage room worked best with this tutorial.
How Hard Is It (Really) to Build a Floating Shelf?
There are many different factors that contribute to the ease (or lack thereof) in building a floating shelf. And honestly, who knocks it out of the park at their first at-bat? That first attempt is always a big learning process.
It's very helpful to have a big enough workspace to lay your shelf down flat when you're screwing in your supports.
Because I was working in my carport and the poured concrete floor is not completely level, one of my supports kicked up a little bit. Because those supports were not all the same height when I screwed the board into the wall, the plywood that I used to wrap the shelf has an obvious high point. Man, bummer!
I disguised this high point by attaching a front piece that is level. If you look hard, you can still see that the shelf is not perfect, but my woodworking DIY theme is and will always be Done is Better Than Perfect.
Sure, I could have ripped the whole thing off the wall and started again from scratch, but that imperfection is something I'm willing to live with.
My encouragement to you is be willing to make mistakes and learn from them. The more you try new projects, the better you will be at them.
How High and Long Should Your Shelf Be?
Ideally, your laundry room shelf should be long enough to span the space over your washer and dryer.
If you'd like, you can make it longer than this, depending on what the space around it looks like. I tried to line my laundry room shelf up with the cabinets above the machines.
What Would I Have Done Differently?
As always, there are some things that I would have changed if I had to do my floating laundry room shelf over again.
Used a longer table when screwing the 2x4s into the ledger board. Because my carport cement floor was not perfectly level, one of the 2x4s is not straight and level. When I attached the top of my shelf, this one 2×4 that was not level caused the whole shelf to have a slight hill to it at that point. If I had screwed those 2x4s onto the ledger board on a table instead of my workbench or the concrete floor, I would have come away with a better final product.
Sand the individual pieces down before installing the shelf. I neglected to sand the front and side boards down before I installed the shelf, which means I will have to do it while the shelf is attached to the wall. If you've sanded anything before, you know the dust gets everywhere! I wish I had saved myself the cleanup and sanded everything to my satisfaction before installing all of the pieces.
Bought some new tools. OK, just kidding. But an impact driver, pocket screw jig, table saw and miter saw are definitely on the wishlist for future projects!
How Should You Finish My Laundry Room Shelf?
If you used wood products (as opposed to melamine or MDF), you have the option of staining your wood or painting it. It depends entirely on the look you're going for. I think I want my shelf to have some contrast with the surrounding finishes, so I'm going to try staining it. A nice warm wood tone can complement your space nicely.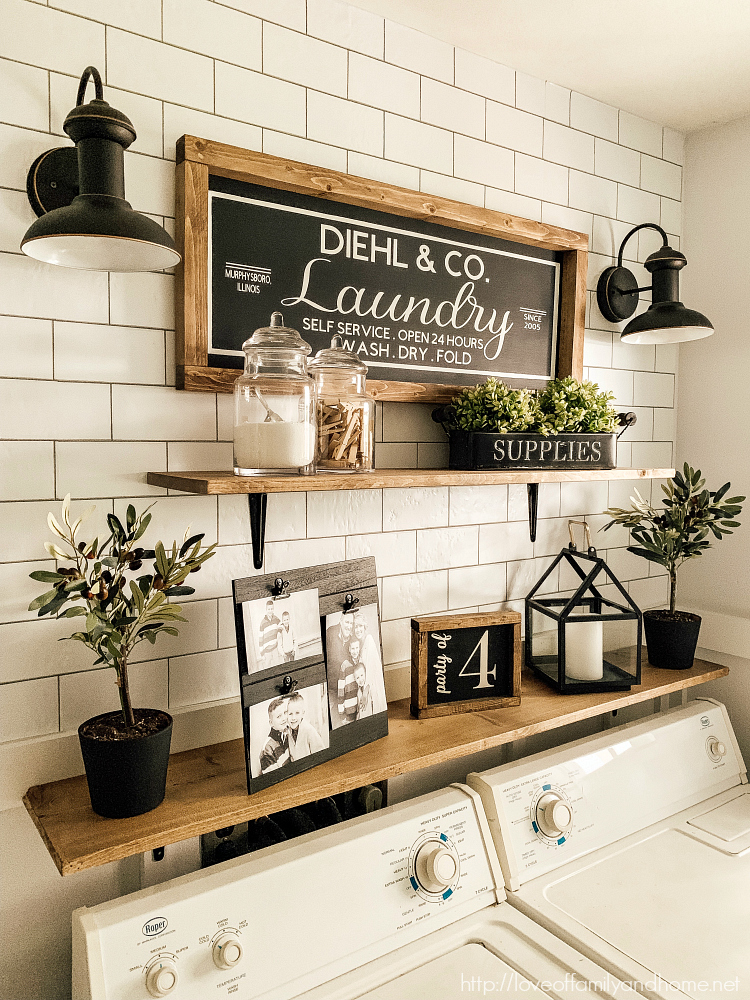 What Do You Put On Your Shelf?
As I was telling my family about my floating shelf idea, they asked a question that I hadn't even really thought about that much:
"What will you put on the shelf?"
Honestly, my primary purpose in building the shelf was to liven up that big blank space between the top of the washer and dryer and the bottom of the upper cabinet. As far as what would go on it, I wasn't really sure!
I use one of those big liquid detergent dispensers from a warehouse club, so I knew I didn't want that on my pretty new shelf.
An internet search yielded a common theme for laundry room storage:
Folded towels
Baskets
Houseplants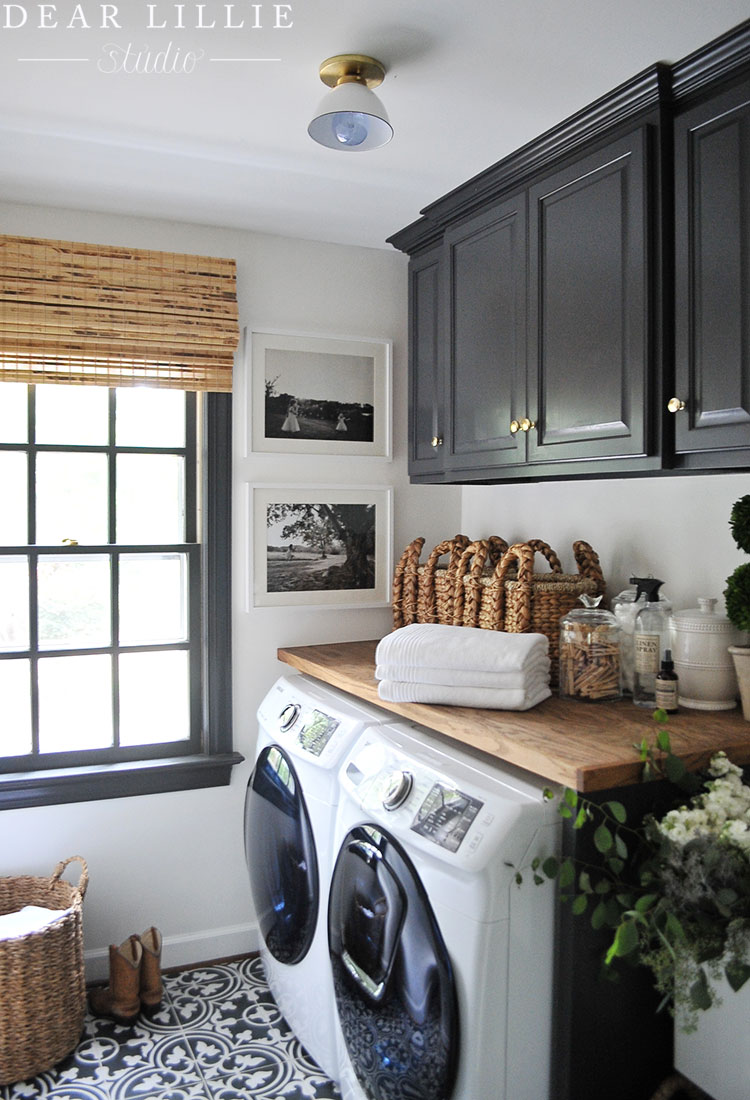 OK, so I will continue to think on that one. One friend suggested a basket for socks without a mate. That is a great idea! I will definitely include single sock storage on my new shelf. Whatever ends up going on that shelf, my only requirement is that it is useful and enjoyable to look at.
Useful things often are not enjoyable to look at, and often things that are enjoyable to look at are not very useful. With a little creativity, however, you can make useful things beautiful (or at least put them in an attractive container) and have space for beauty (which is useful if only because it cheers you up while you fold clothes!).